Mike's Magical Cock
Two male nurses in a West Hollywood clinic try to help a humiliated famous actor finally get some relief after he takes too many Viagras!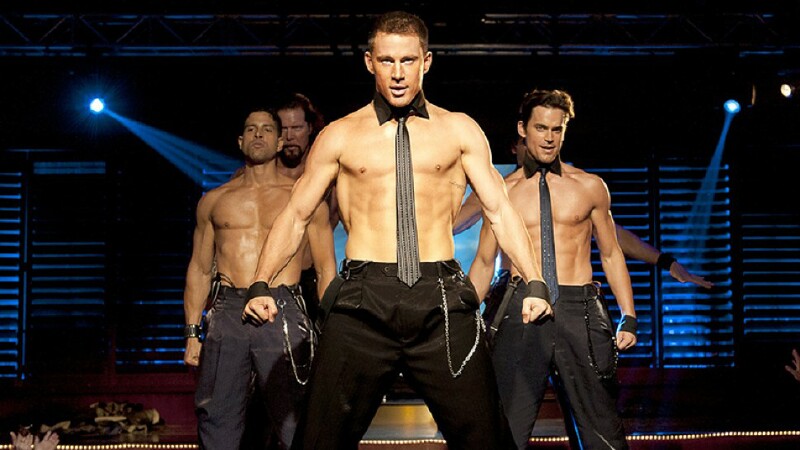 Mike's Magical Cock
by Kris
The West Hollywood Center for Urgent Care was packed. Afternoons here usually were, especially mid-week like this. Bryan stood at his receptionist desk, hurriedly checking in patients and sending them to the waiting room, which was currently standing room only. DeShawn walked out with his last patient, a good looking gay man in his early twenties, and stood behind Bryan's reception desk. He leaned down and whispered.
"That's the tenth case of crabs today. Is that all we get in here anymore? I'm getting bored."
The patient blushed.
"Don't worry. It's going around," Bryan told him, shooting DeShawn a stern look. Sometimes DeShawn had a big mouth. He took the paperwork DeShawn handed him from Dr. Powell's exam and filed it away as the patient fished his credit card out of his wallet.
The front door opened and a warm breeze swept through the building. Bryan sighed. He'd been hoping for a break in the steady stream of people walking into the clinic since they'd opened that morning, but he was starting to accept the fact that was never going to happen. At least not today. He needed a break if he was gonna get through the rest of the afternoon.
"Oh my God," DeShawn said, a little loud even for him. "Is that who I think it is?"
Bryan looked up and his jaw dropped open. A six-foot-one-inch guy with ten percent body fat stepped into the clinic, glancing nervously around the room. Bryan recognized him immediately, even though he pulled a baseball cap low over his head like he was about to rob the place. Bits of chestnut hair poked out from under it, sweeping over his smooth, golden skin. He had a long, heavy raincoat on even though it was a sunny one-hundred-degree day. The guy was sweating bullets. It dripped down his golden-pink cheeks and landed in puddles on the floor.
"It can't be," Bryan said to DeShawn, shaking his head. "What would he be doing in here?"
A toddler in the waiting room stood and suddenly pointed at the man, a big smile on his face. "Mommy, look it's—" The embarrassed mother quickly clamped her hand over her son's mouth and carted him off in the opposite direction, looking horrified and excited at the same time.
"You see, it is him," DeShawn said, licking his lips. "I'm gonna get me some of that."
Bryan looked up to see DeShawn salivating. "Are you talking about his autograph or his dick?"
"Both."
The celebrity walked slowly towards them, pulling his coat away from his body as he did so like he was making room for a balloon. He walked up to the reception desk, his cheeks burning a bright red.
"Hi," he whispered, looking quickly around the room. "I, uh, need some help."
"I'll help you," DeShawn promptly replied. "Whatever the problem is, I can solve it. I can solve anything." He smiled widely at the guy.
"We're professionals, DeShawn," Bryan whispered. "Try to remember that." But even Bryan couldn't help but drool over the actor before him. He'd seen this guy's movies a thousand times before. Even those stupid male stripper dance movies women lusted after.
Bryan shook his head, clearing it. "Your name?" he asked.
"My name?" the guy screeched, clearly startled by my question. "Why?" His eyes bugged out of his head.
"It's a standard question. Strictly for the paperwork."
"Fine, just call me… Mike."
"Mike? Okay, Mike. Do you have a last name?"
"Uh… Dallas?"
"Mike Dallas?" Bryan repeated.
He nodded furiously. "Yep, Mike Dallas, that's me."
The same toddler who had pointed at Mike earlier suddenly reappeared, wrapping his arms tightly around Mike's waist. Mike jumped a million feet in the air, his raincoat fluttering open as he did so. Bryan's eyes bulged out of his head when he finally saw what the problem was.
"Fuck," DeShawn laughed. "That's gotta be the biggest priapism I've ever seen."
The toddler tried to grab Mike again but Mike was too fast. He ran around to the other side of the reception desk, standing between DeShawn and Bryan, looking for cover. The toddler's mother hurried over and looked up apologetically, her mouth dropping open when she saw the enormous golden cock poking out at her from under the raincoat. She hurried away with her kid.
The light from the window caught our new patient in just the right way, revealing brown eyes and a killer body hidden just behind that long, soft raincoat. Mike's hands shook and each time they did Bryan and DeShawn caught a glimpse of his body as his coat pulled open. His cock was too big to fit inside his pants, which were pulled up around his waist but left unzipped. It revealed a mess of dark, coarse curls spilling out of the zipper's opening all along the base of a thick, long shaft. Mike frantically pulled his raincoat closed again and licked his shiny, pink lips.
"Do you think I could get a private room? Please?" Mike pleaded.
"Sure thing," DeShawn said. "Follow me."
"I don't think so," Bryan said quickly, rising from his reception desk. "I'll show you to a room."
"No, I've got it," DeShawn snapped.
"No! I do!"
"I know where all the best rooms are, though!"
"I know which have the best exam tables!"
Mike was watching with wide eyes. Long, hot streams of sweat rolled down his cheeks, licking his lips. Bryan knew exactly what DeShawn was thinking and there was no way he was gonna let him handle this matter alone.
"How about we show him together?" DeShawn finally said, smiling. "Debbie can cover the front desk."
"Great idea," Bryan said. They each grabbed one of Mike's arms, escorting him quickly down the hall.
"I don't need help walking," Mike said, struggling against their grip.
"We just don't want you to fall, man," Bryan said. "Falling in your condition could be hazardous to that beautiful cock you've got hidden there. You don't want it to break, do you?"
Mike's eyes widened. "Break it? You can break your dick?"
"Sure," DeShawn said, winking at Bryan. "You can break anything on your body."
They came to an empty room on the right and ushered Mike inside. "Now, you need to get out of that coat, ASAP," Bryan told him.
"Oh… oh no, I can't." He shook his head violently. "You don't understand."
"No", Bryan said. "You don't understand. Look how much you're sweating. "You're gonna get dehydrated if you don't get out of that coat. Fast. In fact, take it all off. The heat is only making your erection worse. Besides, we've seen thousands of cocks before."
"Dehydrated?" Mike asked uncertainly.
"That's right," DeShawn interjected. "You don't want your cock to shrivel up, do you?"
"No!" Mike cried, slipping out of his coat.
Now that he wasn't so encumbered by that heavy fabric, it was impossible to miss that hard, golden cock. It's soft pink tip lay polished and shiny like a gemstone. DeShawn could almost taste that luscious coral tip. He longed to seal his lips around Mike's cock and suck him dry.
"Look," Mike cried, trying to keep his voice steady but failing miserably. "I took something this guy on set gave me. I thought it was vitamin B." Bryan tried not to laugh. It was hard for him to concentrate, being so close to a celebrity he'd fantasized about a thousand times before.
"Was it Viagra?" DeShawn asked. Mike's cheeks flushed. He nodded, his right eye twitching nervously.
"How much did you take?"
He shrugged. "Three or four."
DeShawn reached out with one hand, gently stroking the tip of Mike's cock as it poked out the top of his jeans. Mike jumped. His cock shot forward like a baseball bat coming out of his groin.
"What are you doing?" Mike asked DeShawn anxiously. He looked down at his massive hard on. His cheeks burned pink.
"Whoa, relax man. I'm just testing your sensitivity. We need to know these things if we're gonna have any chance of helping you."
"Now, if you want us to fix your problem before your cock gets stuck like that forever, you need to disrobe," Bryan said, scolding him. Mike's face contorted. Mike looked from one to the other of them, whimpering as he cradled his massive cock like as it was a sick pet.
"Okay," Mike nodded reluctantly. His thin, white shirt was stuck to his skin. He peeled it over his head with difficulty. DeShawn reached out one dark hand to help him, scraping his hands over his chest as he did so. Removing his shirt revealed a glistening, rock hard chest. He was cut like an athlete, smooth and hairless, his six pack winking as he bent at the waist to remove his pants.
"Just let me take a few notes for the doctor," Bryan said, moistening his lips. His own cock was starting to ache. He took a clipboard from the cabinet and a pen from his pocket. "
"How long have you been erect?"
"About three hours."
"Three hours?" Bryan's eyes bugged slightly. "Three hours is a long time with no relief. Have you tried masturbation?"
"Of course!" Mike shouted. He started pulling at his cock, jerking himself off, as if to illustrate that nothing was working as it should be. His thick, long shaft only grew wider, as Bryan and DeShawn watched, captivating by the massive hard-on.
DeShawn was frothing at the mouth. He was going to explode soon if they didn't get to it. He looked at Bryan, who nodded.
"Stop stroking yourself for a minute, Mike. Do you see how your tip is turning a dark shade of pink, almost red? That's not healthy. DeShawn and I need to act quickly before your blood stops flowing properly. Trust me, you don't want us to have to use the needle method to withdraw your cum." As if on cue, DeShawn held up a six-inch long needle, scaring the crap out of Mike.
"Just lie down on the exam table and you'll be fine," DeShawn said.
Mike didn't argue this time. He climbed onto the table and lay on his back, his gargantuan cock shooting straight for the ceiling. When he was situated, Bryan signaled to DeShawn, who began stroking Mike's shaft with his firm, brown fingers. His cock was covered with a thin sheen that made him slick and easy to manipulate.
"We're going to need to do more than hand manipulation, in your situation," Bryan said, setting his clipboard aside.
"What do you mean?" Mike asked.
Bryan unzipped his pants and pushed them to the ground, climbing on top of Mike, who lay still as a brick, petrified of this entire situation.
"What are you doing?" Mike yelled, alarm flaring in his voice. DeShawn continued to stroke Mike's thick, massive cock as Bryan swung his legs out on either side of Mike's torso, straddling him. His ass was facing Mike's head and his cock was facing Mike's feet. DeShawn grabbed the KY from off a nearby shelf and lubed up Bryan's rosebud for him as Bryan leaned over, licking Mike's balls. DeShawn slipped his thick fingers in and out of Bryan's ass hole, warming it up.
When Bryan's ass was wet he positioned himself just over Mike's cock. DeShawn watched eagerly, slipping his hand inside his own pants and pulling out his massive, ebony cock. With one hand he stroked himself, with his other he rubbed his fingers up and down Mike's smooth, golden thighs.
Bryan hovered just over Mike's sun-colored cock.
"What are you doing?" Mike asked. "I'm not—"
"We're simply trying to help you achieve relief. Remember, I'm a professional. You don't want the tabloids getting a hold of you like this, do you?"
Mike's eyes stared nervously up at the ceiling. "Okay, fine," he said, his face red as a beet.
"First off, you need to massage your scrotum more," DeShawn said, grabbing Mike's testicles as Bryan's ass cheeks spread wide open and he slipped onto Mike's thick, luscious cock.
Mike winced slightly, letting out a small moan, then his eyes rolled into the back of his head. Bryan sank all the way down onto Mike's shaft, feeling his massive cock fill him from side to side. He began to bob up and down on Mike's enormous cock as DeShawn worked his thick, black fingertips over Mike's tennis ball sized sacs, still stroking his own enormous black cock.
Mike moaned and Bryan took that as an endorsement to rock harder, making sure every inch of Mike's mammoth sized cock made it's way inside his canal. DeShawn was sweating as he jerked his hand faster over his gargantuan black cock. He panted as he spoke, "Now I'm going to massage your balls while Bryan finishes you off. I'm going to move fast and pull hard. It might hurt a little, but it's necessary to get you off."
Bryan's own cock was rock solid as he bumped the bottom of his ass against the base of Mike's cock, again and again, feeling Mike's coarse dark curls scrape against his smooth, white skin. He watched DeShawn's cock grow that much more as he slid his huge palm up and down Mike's bronze thighs, rubbing his bare flesh.
As Bryan pulsed against Mike, his cock moved deeper and deeper inside him, until Bryan finally felt Mike bottom out in him.
"Ohh," Mike groaned as his cock slipped in and out of Bryan's tight, wet hole. He covered his mouth with his hands, shocked that he'd let that slip out. His cheeks burned a bright crimson. Bryan grinned, excitement coursing through his veins as he took his own thick shaft in his soft palm and pulled himself so hard his soft pink tip turned white. He jerked himself again, even harder. Finally, thick, white pearls of cum began to ooze from his luscious rosy tip.
"What the fuck?" Mike shouted, alarmed as Bryan's cum ran onto his tight, golden thighs. Mike tried to sit up but DeShawn reached out one long, dark arm and pushed him back down, smiling.
"Don't worry, we'll clean you up." DeShawn leaned forward and with his thick, pink tongue licked Bryan's cum right off Mike's flesh. He looked up to see Mike wide-eyed as Bryan got off the exam table.
"I thought you said this would help," Mike pleaded. "But I feel the same. My cock's still hard as a rock and I'm not any closer to cumming."
"Don't worry, I know how to take care of you," DeShawn said.
***
"Don't worry, I know how to take care of you," DeShawn said. His slick black skin gleamed against Mike's light golden tan as he pulled Mike into his mouth. He moved his head up and down Mike's wide, glistening shaft, which was surprisingly hair free. Bryan moved around behind Mike's head and began stroking his hair, tracing his snow-colored fingertips along the hard planes of Mike's chest. When DeShawn came up to catch his breath, he placed the tip of his broad thumb against the pink-red tip of Mike's cock, swirling it around, using his spit to keep the surface slick.
"I need to keep you wet," DeShawn said. "If you're too dry you'll never cum." He dipped his head back down and pulled the massive cock once more into his mouth. He slid his four-inch wide tongue up and down Mike's massive shaft, cradling his balls in his hands as he tasted Mike's sweet-salty skin.
"Oh," Mike groaned, longer this time. DeShawn smiled. He stepped out of his pants, which had pooled around his ankles, and climbed onto the exam table.
"What are you doing?" Mike asked.
"Sssh," Bryan said, licking Mike's chest with his own massive tongue.
"Sucking on you isn't having enough of an effect. I can feel your blood pulsing under the thin skin surrounding your shaft. I need to do something more drastic, something that'll hit your other nerves as well as the ones in your cock."
"What do you mean?"
Mike looked down at Bryan's enormous hard-on and took a deep breath as he slowly understood what was coming. Unlike Bryan, DeShawn faced Mike as he straddled him. He wanted to see that beautiful movie star face as he fucked him dry. DeShawn's massive raven colored cock was rock hard and stuck out towards Mike's lips. Before DeShawn puckered his ass hole and sank onto Mike's sweet surfer-tan dick, DeShawn wanted Mike to taste him.
He inched forward, Mike's eyes widening as DeShawn gently brushed the tip of his cock over Mike's powder pink lips. Mike opened his mouth to say something and DeShawn pushed the head of his cock inside his mouth, feeling his warm, wet saliva wash over his erection. DeShawn kept his eyes open, watching every movement, every indent on Mike's gold-toned face as DeShawn filled Mike's mouth with his thick, black cock.
"Yeah," Bryan groaned and DeShawn saw that Bryan was already hard again. He was jerking off his big white cock as DeShawn pulsed his massive black erection in and out of Mike's mouth. Mike was obviously a mouth virgin and DeShawn relished in the pleasure of breaking his cherry. Slowly, with his cock still in Mike's mouth, DeShawn leaned his ass out so that his hole was near the tip of Mike's cock.
"Bend your knees," DeShawn commanded, and Mike did as he was told, his brown eyes simmering as he learned to enjoy the taste and feel of DeShawn's massive hard-on as it continued to grow wider in his mouth. Mike bent his knees so that his cock was a bit more at an angle, facing DeShawn's coral colored opening. DeShawn leaned his ass backwards onto Mike's tip, making sure his legs were spread wide so that he could control the speed of Mike's cock entering his ass as he lowered himself onto it.
DeShawn groaned loudly as the tip of Mike's cock touched DeShawn's open hole, spreading it wider as DeShawn's tight, black ass fell back against the base of Mike's cock. Mike's eyes opened wide as he felt himself enter DeShawn. DeShawn was a snug fit considering how enormous Mike's shaft had grown. That was just how DeShawn liked it. He rocked his hips back and forth, controlling the speed which Mike moved in and out of him. The lube from Bryan's ride was still on Mike's thick, throbbing shaft, keeping things moving fast and easy as DeShawn finally got his chance to ride this heartthrob.
Bryan was still near Mike's head, one hand circling Mike's perfect pick nipples and golden chest as his other pulled and tugged at his own massive cock.
DeShawn crammed Mike's cock as far into his hole as it would go. Whenever he felt Mike start to waiver and try to pull out, DeShawn squeezed his cheeks together, tightening his ass hole and locking Mike's cock in place. Finally, DeShawn's head started to feel light. His blood was running at a rampant pace throughout his entire body and when he felt Mike's tongue on his cock at the same time the tip of Mike's cock pushed against his cushy little prostate, DeShawn knew he was going to explode.
Suddenly, the door opened and Dr. Powell stepped in. He was looking down at his clipboard. "I understand we have a—" His face froze when he saw DeShawn riding Mike on the exam table and Bryan ready to explode for a second time all over Mike's perfect bronze face. Dr. Powell didn't say anything, just watched, fascinated. DeShawn had no intention of stopping, anyway. His head fell back as hot, iridescent cum shot out of his dark purple tip and into Mike's mouth. Bryan's own dick erupted in a spray of white foam all over Mike's perfect gold skin. DeShawn pumped his ass a couple of more times on Mike's dick, but Mike still didn't cum.
DeShawn climbed off Mike and quickly cleaned himself off as Dr. Powell narrowed his eyes, licking his tongue along his already moist lips.
"What the hell is going on here?" he asked, quickly looking at Mike. "I came in here to help sort out a priapism and I find you two fucking a movie star."
Mike blushed and Bryan jumped in. "No, no, this isn't a movie star," he said. "This is Mike. Mike Dallas. And he does have a priapism problem. DeShawn and I have been trying to help him cum but he just can't get off."
"Mike Dallas?" Dr. Powell asked skeptically. "I could have sworn you were Ch—"
"No! It's Mike Dallas!" Mike screamed, sitting up as DeShawn's cum dripped out of his mouth and Bryan's cum dripped across his forehead. He wiped it out of his eyes.
"Oh, I see," Dr. Powell said. "Well, obviously you two have no idea what you're doing. His cock is still as hard as a rock."
Bryan and DeShawn looked embarrassedly at the ground as they finished dressing.
"Now leave us alone and let me handle this. You should have come to me the second you realized this problem was too big for either of you to handle."
They headed towards the door but DeShawn stopped, grabbing the clipboard on the counter and running back to Mike, who was sitting on the edge of the table now. "Think I could get your autograph?" DeShawn asked, blushing for the first time since entering the exam room. The taste of DeShawn's cum still lingered on Mike's tongue as DeShawn handed him a pen. DeShawn had been surprisingly salty. He signed the paper DeShawn gave him and he and Bryan left the room.
"Now then," Dr. Powell said, turning to Mike who hung his head so low that his chin almost touched his cock, which was still standing at full mast. DeShawn and Mike's juices still lingered on his thick, hard shaft as Dr. Powell leaned in to examine him.
Mike wasn't normally the type of guy who cried at anything, but tears began to bloom in his eyes as his cock began to ache. "Please," he begged. "There must be something you can do. It's been hours."
"Certainly I can," Dr. Powell said, reaching out two skinny alabaster fingers and stroking Mike's thick long shaft as he sat with his legs hanging over the exam table. He wanted to believe Dr. Powell more than anything, but he doubted whether there was anything he could do. One large tear leaked down his cheeks.
"Now then, don't worry. I assure you I can fix your little problem." He chuckled, "well, not so little, really." Mike didn't find his humor particularly amusing just then. His balls were as hard as bowling balls and all he wanted was to release the pressure stemming from them to the tip of his cock.
"Yeah, right," Mike said, sliding off the exam table and walking away. He stood with his back against the wall now. "That's what the first two said and look what's happened." Mike pointed to his massive hard-on. The thin blue veins that ran up and down the line of his cock were pulsating quickly. His rose-colored tip had gone from a light blush color to a dark purple. Mike was freaking out.
"Just relax," Dr. Powell said, stretching out a hand and placing it on his shoulder. "I have the perfect solution for you."
"What's that?" Mike asked, skeptical but desperate enough to try anything.
As he was talking, Dr. Powell was also undressing. He was in his late thirties and very attractive. His white lab coat was like snow against his lightly tanned skin. He removed it and set it aside, his shirt being the next thing to come off. His chest was like a roller coaster of muscles. The hard planes of his abdomen were cut into him like a chiseled mountainside. He was more of a body builder than Mike would have expected to find under that lab coat. Every angle of his body was sculpted. Mike licked his lips as Dr. Powell pushed his pants to the ground. His cock was a golden brown the color of Brisk tea. He took it in his hand and began to stroke it.
Dr. Powell had seen every one of Mike's movies at least twice. He'd fallen asleep just the other night masturbating to the one about Jupiter. It had been a terrible movie but God did Mike look good in it.
Slowly, he approached Mike, sinking to his bare knees on the cold tile floor. He didn't mind, he liked it when it was a little rough.
He pulled Mike's cock into his mouth, tasting DeShawn's and Bryan's essence still on his thick, long shaft. He bobbed his head once, then swirled his thick, pink tongue along Mike's sunset colored meatus. His hole was like a rich purple cave waiting for the wetness of his tongue. Dr. Powell twirled it around faster and faster until finally sliding it inch by inch down his thick, long shaft.
Mike's legs shook as Dr. Powell licked his balls. They were hard as a brick and just as big. The taste of them was unbelievable, like white chocolate. Dr. Powell sucked them lightly, letting his tongue slide over the sparse hairs that lingered there. The dark curls tickled his tongue, making Dr. Powell smile. Mike's cock was the smoothest he had ever sucked before, even with the random hair on his balls. His shaft was as smooth as a table top and as warm as the sun. Every time Dr. Powell licked his shaft Mike seemed like he was on the verge of exploding.
Mike finally opened his eyes, surprised at his own arousal as Dr. Powell moved his head back and forth over his gigantic shaft. Dr. Powell's cock had already grown a foot even without either of them touching it. The doctor's balls were firm. Mike could tell that even though the doctor was kneeling and he was standing. About the size of oranges, Mike was impressed with how golden they looked. His cock was like a dark baguette as it grew inch by inch. They watched each other with wide, open eyes. Finally, Mike forgot about the ache in his cock and was focused solely on Dr. Powell.
"Now just keep standing there," Dr. Powell said as he rose from his kneeling position on the ground.
"I'm enjoying this and all," Mike said, "but I still don't feel like it's working."
"Don't contradict me. I know what I'm doing here more than you. I'm the damned doctor and you will do as I say. See that white lab coat there?" It was laying over the edge of a chair. Dr. Powell moved to it now and put it back on, so that his tanned, toned body made a startling contrast against the snow white coat. "I'm gonna leave this on just to remind you who's in charge here."
"Alright," Mike said, embarrassed by all the work everyone was going to to treat him.
"Alright what?" Dr. Powell asked.
Mike blinked. "Alright… Doctor?"
"Damned straight! Now stay there and don't move. Use the wall to support yourself if you need to." Mike's heart began to beat anxiously in his chest. He had no idea what Dr. Powell intended to do, he only knew that this was different from what Bryan and DeShawn had tried.
Without warning, Dr. Powell turned so that he was facing away from Mike. He backed into him, laying his ass cheeks against the tip of Mike's cock. He bent forward at the waist, placing his hands on his knees as he eased slowly onto Mike's thick, throbbing shaft. He stopped before Mike could fill his hole completely. He wanted to make the moment last. Slowly, he rubbed his ass in circles as Mike stood with his back to the wall, uncertain what to do.
"Should I, er, pump or something…" he asked, embarrassed by his ignorance.
"You just shut up and stand there, like I told you, Mr. Movie Star."
"I'm not a movie star," Mike said again, his cheeks burning bright. "I'm just Mike."
As if in retribution for the lie, Dr. Powell slammed his ass against Mike's cock, causing his thick, hard shaft to go sailing swiftly into Dr. Powell's tight, wet hole. Mike's eyes widened. He couldn't' believe how good his dick felt sliding into another man's ass.
"Ohh," Mike moaned, as Dr. Powell moved in slow, undulating circles. Dr. Powell's bare ass rubbed against every inch of Mike's nether region, touching even the remotest parts of him as Dr. Powell finally began to sink deeper onto Mike's cock.
"Oh God," Mike said, and Dr. Powell began to pound his ass against him now. He rolled his hips forward and back, pummeling Mike's cock with swift, heavy motions. Dr. Powell's tight golden ass shook as he rolled it backwards again and again, sending Mike deeper into the wall he was leaning against. Mike started to meet his thrusts and Dr. Powell squeezed his ass cheeks together, making Mike's cock hurt. He shook his head.
"I'm in charge," Dr. Powell said, "I tell you to move or not move."
"I just thought…" Mike said.
"Are you paid to think or paid to stand there and look sexy?" Dr. Powell asked.
Mike blushed because he knew what the answer was. Dr. Powell's hands reached behind him and found the outside of Mike's upper thighs. His hands roved up and down the rich golden skin, so smooth that Dr. Powell could hardly contain himself. His own cock was massive and he began to stroke, turning his erection into a fucking pole as he stroked his mammoth shaft faster and harder, while at the same time rocking his hips over and over Mike's thick, throbbing cock so that it slid in and out of his tight opening.
"Pick me up!" Dr. Powell suddenly said as the tip of his cock began to glow.
"What?"
"Lift me up!" he shouted. Dr. Powell wrapped his hands around the back of Mike's neck as Mike squeezed his arms around Dr. Powell's torso, like he was hugging him tightly, and used all of his strength to lift him so that Dr. Powell's bare feet were no longer on the floor. The doctor bent his knees and wrapped his legs around the back of Mike's thighs, bracing himself.
"Lean your back into the wall," Dr. Powell shouted. Mike did as he was told and felt the angle of everything change as Dr. Powell's thrusts suddenly became more intense. Mike's cock started to drip. He felt the first inklings of precum spill out of him as Dr. Powell moved as fast as a racecar up and down Mike's massive shaft.
Suddenly, Mike's grip slipped and Dr. Powell fell to the floor. "Are you alright?" Mike asked, alarmed. "I'm so sorry."
Dr. Powell pushed Mike to the floor so that his back was flat against it and climbed onto him, facing him as DeShawn had done. Mike's body quaked with deep arousal as Dr. Powell sunk back onto his cock. Mike's head began to spin. Dr. Powell pounded his hips harder, driving Mike's cock deeper and deeper into his ass hole. Each time Mike slid in and out of him his cock grew another inch until finally, he was afraid he might not fit anymore. But Dr. Powell didn't stop. Mike's cock throbbed a little more each time it slid further and further inside Dr. Powell's tight ass hole.
"I'm gonna make you cum before you leave my office," Dr. Powell shouted.
Mike felt his eyes rolling into the back of his head. Suddenly, everything switched. Dr. Powell shifted his body so that his right leg went out to the right and his left leg stayed just where it was. The result was that Dr. Powell's tight little ass hole opened that much more, making more room for Mike's thick, golden cock.
Dr. Powell bumped his ass back and rocked his hips forward, driving Mike's cock deeper into his dark little hole than ever before. He pounded steadily against Mike, making Mike's body quiver with each thrust.
Mike couldn't help it when his hips finally rocked upward to meet Dr. Powell's, slapping hard against each other as both of them began to cum. "Oh my God!" Mike yelled, his head growing light. His eyes were wide open as he watched Dr. Powell's cock explode in a stream of white. Mike watched his own cock move in and out of Dr. Powell's tight ass as Dr. Powell refused to give up.
"Cum already! Cum!"
Mike's eyes watered as his thick, hard shaft blended into Dr. Powell's tight, slippery hole. Dr. Powell's opening tightened around Mike's cock and, finally, the first of Mike's juices rolled out of him in soft waves. Suddenly, he erupted. Everything that Mike had been holding in for the last several hours came spilling out of him. Thick white cum spilled out of his cock as Dr. Powell continued to pound his ass against Mike's hips.
Mike kept cumming. Now that he'd started he couldn't stop. It dripped out of Dr. Powell's hole and onto his thighs. Mike was like a volcano going off. Finally, Mike had run himself dry. Dr. Powell unclenched his ass, letting go of Mike's cock, and stood back up, surveying the scene.
"I told you I could fix you up. That's what urgent clinics are for."
"Thank you sooo much, Doctor," Mike said, still lying on the ground exhausted. "If there's ever anything I can do for you—"
"Think I could get your autograph… Mike?" Dr. Powell asked.
"Of course."
"Oh, and next time, come to me first before going to a nurse and a receptionist. Those guys never know what the fuck they're doing."