Doctor Gives Horny Patient a Prostate Exam
Doctor Basham gives his young and horny patient Jimmy a prostate exam and all hell breaks lose!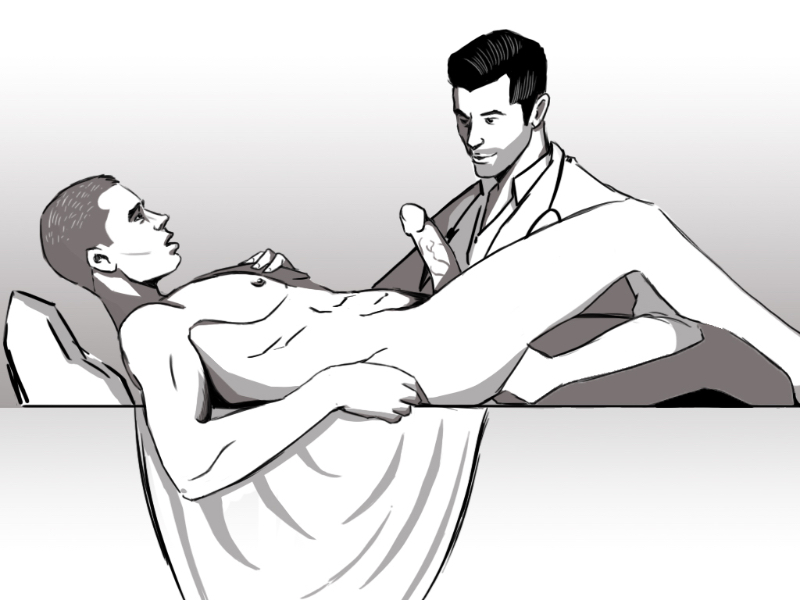 Doctor Title
by Doctor Jackman
It had been almost a year since Jimmy Cowan sat in this cold room on this hard table. Every year he was required to get a physical exam done for his job. That means, every year since he was 16 he had come to Dr. Basham's office. A lot had changed over the last 12 years. Now, sitting on the exam table looking in the mirror across the room, Jimmy took count of the changes
He was definitely taller now, measuring nearly 6 feet tall. His muscles had surely developed from the long hours he had worked in the construction field. Plus, he was tanner. The door opening startled him out of his day dream. What walked in sent him into another type of dream.
Why was it the nurses always looked good in doctor's offices. Perhaps it's because they hire them young; this one couldn't have been older than 22. Then they make them wear those scrubs that fit in all the right places. Take this nurse, for example.
Standing roughly 5 feet, 6 inches tall, her body was perfectly proportioned. Her breasts were just the right size, a c cup Jimmy guessed, and her ass was perfectly plumb. Not to mention, her scrub top was just low enough that the perfect amount of cleavage shown, without being slutty.
"Hello, Mr. Cowan. My name is Jessica and I'll be your nurse today."
"Hi, Jessica," Jimmy managed while still checking her out. She didn't seem to mind the attention.
"I'm going to check your vitals real quick. If I could have you step on the scale."
Jimmy obliged, thought he felt the stirring in his dick as it pressed against his jeans, begging to be let loose. Maybe it was the lack of sex at home, or just his sex drive being on overdrive, but he was starting to have a hard time hiding his excitement.
"The Doctor will be in momentarily, Mr. Cowan," she said, smiling as she looked down and noticed the unmistakable shape of Jimmy's cock, growing harder and harder by the second. He hadn't even noticed her get his weight.
Jimmy could feel the blood literally leaving his brain and heading to his cock. Usually Jimmy could control it a little more, but it seemed like it had been ages since he and his wife had fucked. The thoughts of that nurse bent over the exam table kept running through his mind as he stripped off his clothes. Looking at his body, he definitely wasn't bad to look at. He might not have six-pack abs, but what he lacked in his physique he more than made up for in his cock.
When limp, his cock dangled at an impressive eight inches. When hard, it matched the size of his wife's forearm: it was a good eleven inches. That's why he didn't understand why his wife didn't want it as often as he did. Regardless, the fact still remained that his massively big dick would be impossible to hide from Dr. Basham
He had never been the one to need to masturbate; but then again, he had never had a physical exam with a boner before. Surely the doctor will be awhile, Jimmy thought as he weighed his options. It was usually always twenty minutes between the time the nurse left and when the doctor would come in. Surely that was enough time to satisfy his cock, at least temporarily.
Letting the gown drop to the floor, Jimmy climbed back onto the table and lay back against the thin pillow. Feeling the paper sheet against his sweaty back was awkward, but he wouldn't be like this for long.
He glanced down at his cock, admiring its size and girth. Even with his long fingers, he could barely reach his hand all the way around it. As he did, he could feel the blood pumping through the thick veins on either side. Not wanting to take any time, he quickly spat in his hand, and started lubing his cock up.
Its head was so sensitive, jerking away from his hand at the first touch. Slowly, Jimmy worked his hand up and down his cock, allowing his saliva to cover every inch before he picked up speed. Before long, his arm was like a jackhammer pumping up and down, causing that familiar feeling to bubble up in his groin.
The doctor walked in at the most inopportune time imaginable. There laid Jimmy, stretched out on the exam table, his gown laying on the floor and his impressive cock in his hands. Doctor Basham analyzed the situation, closed the door, and smiled at Jimmy.
"Hello, Jimmy," Dr. Basham greeted him in his husky, old man's voice. "I see you are here for your yearly exam. How are you feeling?" Dr. Basham looked like your normal, small town, doctor except for the grey beard on his face.
Jimmy was unsure how to answer. One would think that being caught by your doctor, stroking your meat, would take all the blood flow from your dick. Jimmy wasn't so fortunate.
"I'm sorry, doc." His face was blush red with embarrassment as he removed his hand away from his still throbbing cock. "You shouldn't hire such good looking nurses." They both laughed
"No need to apologize, my boy."
With that, Dr. Basham continued the exam, as if nothing had happened. They went through the normal routine, checking his blood pressure and going over any pains he might be having in his body. Yet, still, Jimmy's cock refused to go down. Several times, it would flinch as the doctor would grab it with his glove-covered hands, trying to examine Jimmy's legs and abdomen. However, Jimmy noticed the doctor spent more time in that area of his body than he normally did.
After the normal pressing of his belly and checking his reflexes, the doctor stood up from his stool and headed towards the cabinet. "Ok, Jimmy. Now I need to check your prostate."
"My prostate?" Jimmy questioned. "I'm not old enough to have those problems yet, am I?"
"The standards have changed, Jimmy. Now we start examining it at 28." The doctor walked back to the exam table with what appeared to be a bottle of KY jelly. "I need you to lay back with your knees bent for me, son."
"I don't know, doc. I didn't come prepared for that"
"Jimmy, I have been a doctor for 40 years. I have seen everything. Now lay back and let me do my job.
Without any further hesitation, Jimmy done as he was instructed. He watched as the doctor placed a glob of lube on his left hand and rubbed it with the pinky of his right hand. "This is to make sure it's not so cold," the doctor explained when he saw the unsure look on Jimmy's face. "Now just relax."
Jimmy wasn't sure, but he though he seen a smile come across the doctors face as he bent down. Now, just for the record, Jimmy had never had anything stuck up his ass, before. Not even in his 4 years of college did Jimmy experiment with it. Needless to say, it was going to be a tight fit.
Jimmy felt the coolness of the oil as the doctor placed a glob on his crack, right below his balls. Jimmy gripped the sides of the table as he felt the doctor's fingers slide the glob of jelly down his asscrack and directly in his hole.
"OOOhhhh," Jimmy proclaimed a little louder than he thought as the doctor slowly slid his pinky in. Instictively, his cock started twitching.
"Just relax. It's a lot tighter than I'm use to."
Just then, the doctor removed his pinky and stuck in his middle finger. Jimmy jumped back in pain, at first, but once the initial shocked subsided, Jimmy felt an unusual sensation: it actually felt good.
"OOOOOHHHHHH doc. What the hell are you doing to me?"
"Just relax, Jimmy. I'm just making sure you are healthy. And having boner as long as you have without relief is not healthy. So just relax and let the good doctor take care of you."
Slowly and methodically, the doctor started moving his finger in and out of Jimmy's ass. Before Jimmy could stop himself, a moan escaped out of his mouth followed my several more. IT wasn't long before he was sounding like a bitch in heat.
"SSSHHH, Jimmy. The nurses are right outside." Looking down, Jimmy seen drops of precum flowing from the head of his dick. Past his dick, he seen the look of pure joy on the doctor's face as he watched the same drops going down Jimmy's shaft. Jimmy didn't know whether to be horrified or thrilled when he seen the doctor lean down, stick out his tongue, and lick the precum off his entire dick.
His tongue felt different than any woman's he had been with. It was as if the doctor's tongue had extra ridges that made licking dick that much better.
"OOOO Doc, don't be a tease, now," Jimmy moan out. The Doctor knew what he was begging for. Like a pro, Dr. Basham placed his beard mouth over the mushroom head of Jimmy's dick. Starting by just putting the first couple inches in his mouth, the doctor began bobbing up and down. Each time he went down, he put more of Jimmy's cock in.
Jimmy couldn't believe what he was feeling. This could perhaps have been the best blowjob he had ever had; and it was coming from his 63-year-old doctor. The same doctor who had helped him get through puberty. The same doctor that had made Jimmy turn his head and cough as he checked his balls so long ago. If you had asked Jimmy 30 minutes ago if he thought Dr. Basham was capable of this, he would have said Hell no. Now, all Jimmy knew was he was moments away from possibly the biggest orgasm of his life.
By this time, Jimmy was raising his hips to match the doctors pace, fucking the face of this old man turned horn dog. He could he the all too familiar gargling sound coming from the doctor's throat as Jimmy's dick relentlessly hit the back of it. Meanwhile, the only sounds coming from Jimmy were those of pure bliss.
Refusing to remove his mouth from Jimmy's dick, but unable to keep up the deep throating, Dr. Basham brought the hand that wasn't currently in Jimmy's ass up to his dick and started stroking it, allowing the saliva and precum mix to lube the entire length of his shaft. Turning his hand at just the right moments, Jimmy could tell this wasn't the doc's first go-around with a massive cock. Later, Jimmy would have to find out where the doc started.
As if he could since the impending burst, the doctor picked up the pace of his finger. Just as Jimmy thought it couldn't get any better, the doctor inserted a second finger, this time bending them while inside Jimmy's ass, applying just enough pressure on his scrotum to send him over the edge.
"OOOOOOOOHHHHHHH Hell doc. I'm going to cum! SSSSSHHHHHIIIIIIIITTTTTTTT!" This time it wasn't just a moan, Jimmy was yelling as he felt the buildup in his balls reach it's max.
"That's the idea, my boy." Jimmy could sense the smile in the doctor's voice as he raised off his cock for just a moment.
Without warning, just as Jimmy was about to blow his load, the doctor placed Jimmy's massive cock back in his mouth and deep throated his dick until the hair on the doctor's beard tickled Jimmy's balls. That finally sent him overboard. Jimmy moaned so loud he was sure the whole doctor's office heard him as his cock pulsed load after load down the doctor's mouth.
As if he was a pro cocksucker, the doctor didn't miss a drop, swallowing every ounce of the spunk that flowed from Jimmy's dick. For nearly a minute, the doctor's mouth was suctioned onto the head of his dick, drinking in the gooey blend. If Jimmy didn't know any better, he would have thought the doctor was high. The only thing the doc could manage, while sucking every ounce of cum out of his dick, was the biggest grin Jimmy had ever seen.
Jimmy refused to move. He hadn't felt his muscles relax this much in such a long time. Plus, he was awestruck as he watched the doctor lick up and down his shaft, not wanting to miss a drop. It was as if he was worshipping his cock.
The doctor looked up at his patient and smiled again. Then, once all the come was gone, Dr. Basham removed his fingers from Jimmy's asshole. The strangest feeling came over Jimmy; he felt empty. It felt as though something has been taken out of him that he severely needed. Maybe, Jimmy thought, just maybe this is why I haven't felt fulfilled.
"Looks like I'm all done here, my boy." The doc stood up and removed his gloves. Jimmy could see the mixture of cum, lube, and a little shit on the doctor's gloves.
"Doc, I don't know what to say. I have never in my life…"
"Don't say another word," the doctor cut him off. "And Don't worry if you were heard. What you don't know is that this is a sound proof room. Nobody but me heard you beg me to suck your dick."
Jimmy shyly smiled, though he was relieved he couldn't have been heard. "So is my prostate healthy?"
"Jimmy, I would say that you have several years before you have to worry about that. However, just to be on the safe side, we better schedule you another visit in 6 months." The doctor winked at Jimmy.
The doctor pulled a washcloth out of the cabinet, put some water on it, tossed it to his patient, and walked towards the door.
"But what if I start having problems with my erection again," Jimmy asked, almost sounding like a boy who was losing his fondest toy.
"Then I suppose you will need to make an appointment. I'm sure we could squeeze you in."
With that, the doctor walked out of the exam room, leaving Jimmy naked and alone. Jimmy cleaned his ass, sure to wipe away the shit that had fallen lose. After tossing the rag in the trash, he dressed again and headed to the door. Walking out, the only person in the narrow hallway was the same nurse that had checked Jimmy in.
As if on que, his dick started throbbing again. Jimmy knew that he was going to have to come back for a check-up real soon. As he walked passed the nurse, she stood form her seat and walked passed him. However, as she did, she grazed her hand across his itching cock and smile. Yep. I'm going to be back here real soon. Maybe I should hurt myself at work so it doesn't look so obvious.